Hezekiah's (Broad) Wall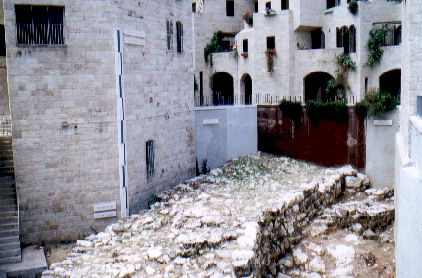 This is a portion of the wall in Jerusalem that Hezekiah built in preparation for Judah's rebellion against Assyria. The smaller stone structure to the right is a house that was destroyed when building the wall. The remains of this wall was discovered by Avigad in the Jewish Quarter of the Old City in 1970. It is about 23 feet thick and still stands up to 10 feet tall.
Though there are varying opinions (which is very common in archaeological interpretation), it is believed that Hezekiah built this wall to enclose the western part of Jerusalem, including the Pools of Siloam. Prior to this wall, only The Ophel and the temple mount was inside the city walls. This wall and the Siloam Tunnel was built in preparation for an attack by Assyria because Hezekiah refused to pay tribute to Sennacherib, the king of Assyria. These building activities are mentioned in 2 Chronicles 32:3-5 and 2 Kings 20:20. The Chronicler seems to praise Hezekiah for these works. But, some scholars believe Isaiah to be rebuking him in Isaiah 22:9-11 because he destroyed houses to fortify the wall (as evidenced in the photo above) and because he didn't give credit to those whose work he built upon when he built the reservoir for the waters from the Siloam Tunnel.
Hopefully someday, we will visit the Siloam Tunnel and the Siloam Inscription, but alas, we have no photograph's of these great finds. If anyone has photo's they could donate, please contact Digger Doyle!
By the way, Jerusalem was not harmed by Sennacherib, though most of Judah was crushed, including Lachish. If you wish to see Sennacherib's Siege Ramp at Lachish, make that your next stop. Read Chronicles for the exciting details ­ I won't spoil the plot! Sennacherib, of course, tells a somewhat different story. He claims to have "shut Hezekiah up like a bird in a cage." I guess that's a fancy, cocky way of saying he couldn't take over the city.
To find out more about Hezekiah and how he trusted in the Lord to deliver Judah from Sennacherib, take a quick break from the tour and check out a Bible Study on the subject.
---
Other sites in the The Jerusalem Tour:
Go Back to the Tour Table of Contents